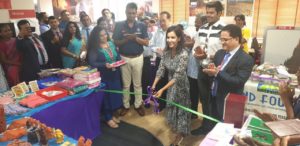 HSBC's Helping Hands Mela, a unique annual event that brings NGOs from across the country into HSBC's premises, opened on Oct. 21 and ends on Oct. 25.
The bank's branch on Cathedral Road, near Amravathi restaurant is also hosting this unique sale.
During this period, HSBC invites local NGOs into its branches to display their products, which ranges from arts and craft, accessories, hand crafted jewelry, home linen, stationary, diyas to food items such as jam, pickles and chutneys.
It gives NGOs and communities an opportunity to sell its products at
prime HSBC locations to customers and the public. The proceeds of the sale go towards supporting
the causes and the communities the NGOs serve, says a note from the bank.
This year, the Chennai branch has chosen the theme "Neer – Every drop counts" to support water
conservation given the precarious position of water resources and water bodies, specifically in
Tamil Nadu.
Senior Vice President and branch head Stephen Dique, welcomed the guests at the launch on behalf of HSBC. The inauguration was graced by N Ram from The Hindu group, Sunil Subramaniam, former Tamil Nadu and South Zone cricketer and manager of the Indian Cricket Team, Priya Anand, actor, Ganesh Venkataraman, actor and Abdul Rasheed, retired chief engineer of Chennai Metro Water.
Contact : Aman Ullah at aman.ullah@hsbc.co.in.