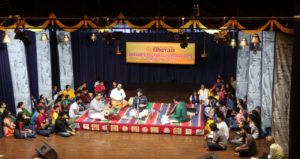 Bharatiya Vidya Bhavan's Chennai kendra in Mylapore hosts what is the first big music festival of the famed December Season and in its first week, the main auditorium has seen a full house for the concerts of the well-known artistes.
People did not mind sitting on the stage for Sid Sriram's concert after the hall filled up and late-comers had to be content with seating provided in the pathways outside where widescreens have been set up for viewing.
Planning and scheduling for this festival is done over one month.
After all, the Bhavan will host close to 200 concerts – including dance recitals at its Kilpauk school campus auditorium – and this means over 800 artistes are signed up for the festival that runs through December and spills into January 2020.