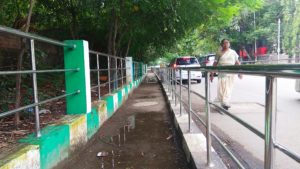 New railings have been fixed along the footpath on one side of Pasumpon Muthuramalinga Thevar Road in R. A. Puram.
Chennai Corporation took up this work after it finished the construction of stormwater drain network here and relaid the pavement.
But people who frequent this area say that the pavement has become unusable as rainwater stagnates on it when it rains.
On Wednesday evening, rainwater was seen stagnating on some sections of the footpath.
Pedestrians chose to walk on the sides of the footpath.
Says Viji, "As we are not able to use the footpath, to avoid the risk of being hit by vehicles, I'm taking a roundabout route to reach Greenways Road from T. T. K. Road."
Muthiah, the Assistant Executive Engineer (AEE) of Zone 9 who is attached to the Storm Water Drain department of Chennai Corporation says, "After laying the stormwater drain chambers we found that some portions of the footpath were at a lower level. That has resulted in waterlogging. We have asked the contract workers to level the surface."