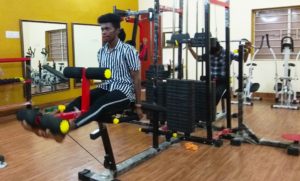 A new gym has been set up at Pillayar Kovil Thottam, a TN Slum Clearance Board tenement in Mylapore.
This has been made possible by Mylapore MLA R.Nataraj.
The MLA has spent Rs. 20 lakhs from his MLA Constituency Development Fund for this project and other developmental works in this colony.
The gym is fitted with exercise equipment, including leg press, and cycles. In addition, some equipment is also fitted outside the gym.
Located next to the TNSCB Commercial Complex on R.K.Mutt Road, the colony houses over 500 families. And most of the residents work as daily wage labourers or domestic helpers.
The youth of this colony say that the facility would be very useful. Says Bharath, a college student, "Earlier, we had to go outside and spend around Rs. 500 to exercise at a gym. Now I will be able to save that money."
A few people residing close to the gym are taking care of it. Says Malathi, a resident, "We keep an eye on the gym so that the equipment is not vandalised. We also maintain an in/out register and keep the gym locked when it is not in use, " she says.