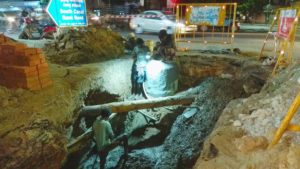 An underground sewage pipe and a BSNL cable have been damaged at the junction of R.K.Mutt Road and South Canal Bank Road, Mandaveli.
On November 11, contract workers of the civic agencies were working to fix the damage at the sewage pipe.
A large area has been dug up for this purpose opposite to R.A.Puram post office.
The workers say they have been working day and night for the past 2 days to find the fault here.
Said a BSNL staff who was at the site, "Recently, Airtel laid a cable here. During that process, it damaged the underground BSNL cable, that carried 1500 telephone connections to the San Thome area. In addition, since it damaged the sewer line, sewage water has flooded this area, making it difficult for us to solve the problem."
He says that the fault at the BSNL cable can be solved only after the damaged sewage pipe is fixed, and the sewage water is let out.