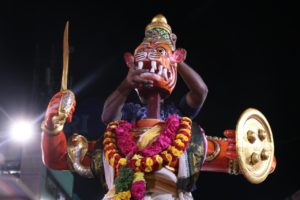 Mylapore's South, East and North Mada Streets, sections of it to be exact were the stage for the soorasamharam as the annual skanda sashti celebration in honour of lord Muruga came to an end on Saturday evening.
At the Gandhi statue end off the Chitrakulam, the event of Sri Velleswarar Temple was simple with a man on an audio system giving a running commentary on the event and its meaning. A few hundred people gathered here to watch the ritual and be blessed.
At about 7.30 p.m., the much bigger soorasamharam event of Sri Kapali Temple took palace at the east end of North Mada Street with the symbolic acts performed before a big crowd.
Thirukalyanam at Sri Velleswarar Temple is planned for Sunday evening.