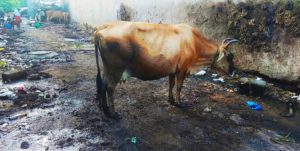 The picture shows the messy state of Madhavaperumal Kovil lane in Mylapore.
This is an L- shaped lane that runs from Mundagakanni Amman Kovil Street to V.S.V. Kovil Street adjoining the wall of Sri Madhavaperumal temple tank on one side and wall of  Sri Veerabhadrar temple on the other.
Over the years, residents say due to the encroachments by cattle owners, this narrow lane has become unusable for them. They say that complaints to the Chennai Corporation have not helped.
The entrance to this lane from Mundagakanni Amman Kovil Street has been taken over by cars that are meant to be serviced at a mechanic shop here. The rest of the lane is being used by cattle owners to rear their cows.
Cows are parked in the middle of the lane. And mounds of cow-dung are dumped throughout the street leaving very little space for people to walk. The recent rains have worsened the condition – The lane is slushy and slippery. And a bad smell emanates from the area.
A resident who wanted to be anonymous said, "The cattle owners stay elsewhere and use this space only to feed their cows (around 15) and collect milk from them. They never clean their waste. The cow-dung remains here for months," he says.
Another problem that the residents face is mosquitoes. "As a large area is filled with cow-dung and dirty water that is left after cleaning the cows, mosquitoes and even rats breed in huge numbers," says another resident.
In addition, heaps of construction debris, food waste, and plastic waste are strewn alongside the walls of Sri Veerabhadrar temple. And men are seen using this as a place for open urination.
The residents fear if they will fall ill due to the unhygienic conditions here. Hence most of them have permanently stopped using this side of the road. They are now using the parallel road – Kallukaran Street to enter their houses.