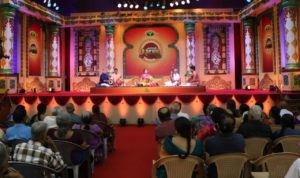 Jaya TV launched its December Season's classical music fest of concerts on Sunday at Chettinad Vidyashram auditorium in R. A. Puram.
Concerts feature among others Vishaka Hari's Harikathan, a special concert by mridangam maestro Karaikudi Mani and vocalists Sudha Ragunathan and Sikkil Gurucharan.
The concerts are open to all but the monsoon has kept away many rasikas the past few days.
Jaya TV though has its shooting team at this auditorium because they film and edit these concerts, spice them up and will telecast them later this month, allowing mostly seniors to enjoy the music in their drawing rooms.
Jaya TV staff say the telecast will run from Dec.15 to Pongal, January 2020.