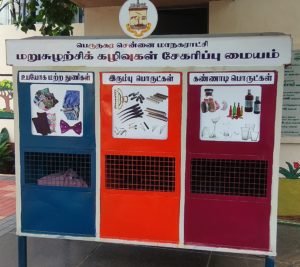 A micro Material Recovery Facility (MRF) has come up at the public park in R.K.Nagar. People in nearby areas can use this facility now.
Chennai Corporation has placed two colour coded rectangular boxes to collect different kinds of recyclable waste.
The boxes have compartments meant for collecting paper, plastic, glass, iron, leather and used clothes. Each one has been labeled in Tamizh and has an image of items that can go into it.
Within a few days of its installation some people have started using the facility. A wire mesh in front of it allows people to see what is kept in them.
K.L.Balasubramaniam of TAKSRA says, "To reduce the amount of garbage going to the dump yard, we requested the Corporation to bring the facility in our neighbourhood."
A full-fledged material recovery facility that collects waste including plastic, tender coconut, and electronic waste is also present at the backyard of this ward office. Balasubramaniam says that the residents also drop coconut shells and other recyclable waste here.
The park will be open from 5 a.m. to 10 a.m. and from 4 p.m. to 8 p.m.