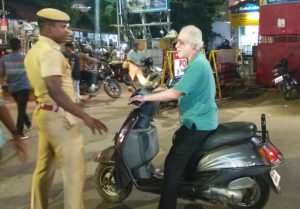 For the past few days, Mylapore traffic police are stationed at key points around Sri Kapaleeshwarar Temple to see if the 'one-way' traffic rule is followed.
The rule was introduced to reduce traffic congestion on these streets.
Barricades are placed at entrance of North-Mada Street and junction of South Mada Street and East Mada Street to discourage violations. And motorists flouting the rule are being turned back.
White lines have been redrawn on the roads to indicate they are 'one-way'.
Said a Mylapore Traffic police, "We have planned to continue monitoring for a few more weeks. By then, we hope that people will get used to the one-way rule and follow it regularly."