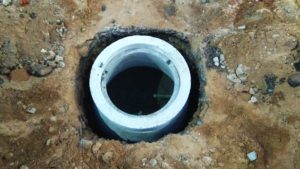 Recharge wells are being constructed along the service road in Marina.
Every time it rains, a section of this road behind Gandhi statue gets flooded. To avoid this, the Chennai Corporation has sunk 5 ft deep recharge wells at six locations here.
Says a Corporation official attached to zone 9, "The recharge wells are laid as a temporary measure to avoid water stagnation. However, during heavy rains, the wells will not be able to take much water. We will have to suck it out through a motor."
Earlier, the civic body dug the sandy area adjoining the road to construct recharge pits. But as cables were passing through the pits, he says, they had to stop using it.
"We are working to get a permanent solution for this issue," he says.