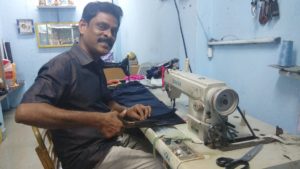 Meet 46-year-old Shankar, who specializes only in altering stitched clothes.
For the past 8 years, his shop at R.K.Mutt Road has been a go-to destination for Mylaporeans for their clothing alterations.
Except for altering blouses, his 'ALL in ALL Restitch Tailor' shop does everything from resizing pant to altering a stitched salwar kameez.
He does not stitch new clothes as he sees demand in this area of work. Says Shankar, "A number of people prefer altering clothes to get the right fitting."
His customers are mostly locals. During the December season, he says he gets few NRI customers for altering their readymade traditional clothes."They buy them for wearing at music concerts and temples," he says.

Over the years, this tailor has also become experienced in re-stitching. However, Shankar is an one-man army at his shop. "I have not employed any staff as I do not have the resources to train them, " he says.
Sometimes, the Mandaveli resident says he also gets bizarre requests. For instance, he says, "Once a customer wanted to reduce the height of nightwear pant to half its size, and another wanted her bed sheet altered."
Shankar promises to deliver clothes within a reasonable time. If it is a small job, I would finish within 20 minutes itself, he says.
Stitched shirts, pants, and dresses for men, women, and children are altered here. Shankar charges Rs.100 for altering a shirt. His shop is located at 215/9, R.K.Mutt Road, Mylapore. (Opposite to Ramakrishna Math). Open from 9 a.m. to 8 p.m. Ph: 9884353624.