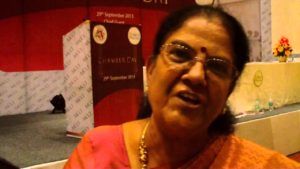 Well-known educationist and academician, Dr. Nirmala Prasad passed away on December 5. A resident of Alwarpet, Dr Prasad was known for making a name for M. O. P. Vaishnav College for Women in Nungambakkam after she took over as principal of this college.
She was 69 years old.
Dr. Prasad introduced a host of innovative programmes and classes at M. O. P. Vaishnav College and the focus was on entrepreneurship, to enable students to broaden their vision and perspective and intern even as they attended to studies on campus.
Many alumni recall her endearing ways in dealing with young people and shared their positive experiences on social media when news of Dr. Prasad's passing away spread.
Dr. Prasad was also known to be a smart administrator with a no-nonsense approach. She served as member of the Syndicate of University of Madras for three terms, a record and made significant contributions to revamping and upgrading commerce syllabus for under-graduate students.
Dr. Prasad had helped set up and head the commerce department at Ethiraj College for Women where she worked for about 20 years before joining M. O. P. Vaishnav College in 1997.
Post-retirement, she was active in social and business enterprises and community intiatives.
Respects/condolences can be paid at the residence of the Prasads – from 1 p.m. onwards on Dec.6, Friday.
Address – Flat B6, Ashinana Flats, Venus Colony 2nd Street, Alwarpet. Contact – 9841130193.
The cremation is scheduled on Dec.7, Saturday at 11.30am at Besant Nagar crematorium.