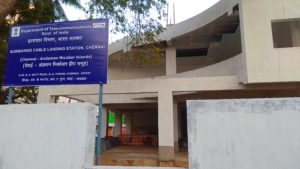 BSNL has taken up a new project to provide high-speed internet connectivity to Andaman and Nicobar islands through the Submarine cable network.
The landing (or transmitting) station for the same is under construction at R.K.Mutt Road, Mylapore opposite Rani Meyyammai Girls school.
The Tamil Nadu government took up this project as the islands currently receives only limited network connectivity. This is because the satellite link that provides connectivity has small bandwidth.
Last Thursday, Union Minister Ravi Shankar Prasad inaugurated the Chennai-Andaman and Nicobar Islands cable laying work.
Now, a ship has started laying the cable from a junction point at Pattinapakkam sandy area. This will be joined with the transmitting cable from the landing station. Said a BSNL official who was present at the site, "We are using fiber optic cable to transmit 6.4 terabytes/ second of bandwidth to the islands."
"The project would start by June," he says.