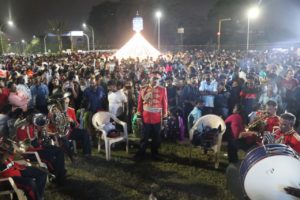 Hundreds of youths and families crowded around the clock tower at the Marina roundabout of the Marina to ring in the new year – 2020 – as the clock ticked closer to midnight on December 31.
Firecrackers were burst, balloons released and some people even burst into a jig and a song at the stroke of midnight.
A brass band of the city police played music on the Marina lawns.
Since the main roads and the roads leading to Kamaraj Salai had been barricaded earlier in the night, those who wanted to join the public space celebration had to park their cars or bikes far away and walk to the roundabout.
There was a huge police presence, securing the Marina promenade and security cameras put in place to look out for trouble-makers.
Access to Kamaraj Salai, over a long stretch from the Light House end and northwards was closed after 9 p.m.
Police had taken position on the main roads and at busy junctions to discourage bike-borne racing.