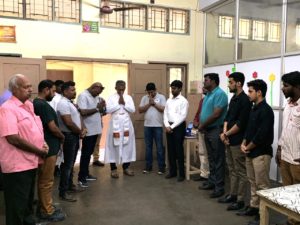 Some 200 'old boys' of St. Bede's Anglo-Indian Hr. Sec. School took part in the 95th Annual General Body meeting and Reunion held on the San Thome campus on January 26.
Among them, were alumni from abroad –  25 from USA, Australia and UK. 15 retired teachers also participated. Among the Salesian priests present were Fr. P. J. Sebastian who used to be Headmaster at St. Bede's in the 1970s and is now leading a retired life with the Salesian priests community at St. Mary's Cathedral, George Town and Fr. Lionel Xavier, who was a student at St. Bede's.
The 'Bedean of the Year 2020 awards were given to Kumar Sitaram and Michael Nicholas.
The Old Bedeans also organised a free eye screening camp with the help of Dr. Atheek of Fathima Eye Clinic.  School boarders as well as children who reside in the San Thome area kuppams who attend the night schools organized by the Salesians made use of this camp.
A diabetes detection camp was also held, with the help of Dr. T. V. Kumar.
The annual newsletter of the Old Bedeans was released, with the first copy given to Leith Castle resident, F. J. Vincent, the oldest past pupil ( Vincent belongs to the 1940 batch). The Reunion ended with a special lunch.
Contact – Stafford Mantel, Old Bedeans president – 98400.28773