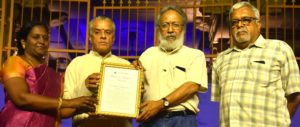 P. S. Higher Secondary School in Mylapore was decorated with the 'Spirit of Mylapore' award by Sundaram Finance at the annual Mylapore Festival held last week.
The award was presented on Sunday evening ( January 12) on the main performance stage of the festival in Sannithi Street quadrangle.
K. V. S. Gopalakrishnan, secretary of the school management and R. Kala, headmistress of the school received a citation and a cash award from T. T. Srinivasaraghavan, MD of Sundaram Finance.
S. Sivakumar, vice-president, Sundaram Finance anchored the event.
The school, founded in 1905 by the charity set up by a distinguished personality of his time, Pennathur Subramania Iyer was the go-to school in in the early 1900s and its long list of well-known alumni include sportspeople, administrators and lead personalities in music, theatre and journalism.
The school began by renting spaces on the mada streets and on R. K. Mutt Road before moving into its own premises on R. K. Mutt Road.
The annual 'Spirit of Mylapore' recognises people / institutions in Mylapore who/ which have made unique, signal contributions to the community. The first recipient was late Alwar, the street-side bookseller in Luz who over decades catered to legions of students and book-lovers.
This award is presented during the annual Sundaram Finance MYLAPORE FESTIVAL.