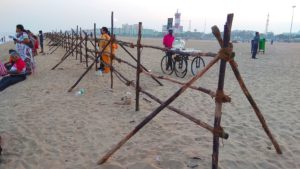 Ahead of Kaanum Pongal, Chennai city police have made elaborate security arrangements at Marina. This is carried out as thousands of people are expected to visit the beach to celebrate the festival tomorrow.
Wooden barricades and watchtowers are installed along the sandy area of the beach. And over 1000 policemen are set to be deployed on bundobust duty.
Said a police officer attached to D5 Marina police station, "We will use CCTV cameras to monitor the crowd. Besides this, policemen mounted on horses and Coastal Security guards will also be monitoring from two ships and a helicopter. 100 swimmers are also appointed to rescue people from drowning."
To avoid incidents of children getting lost in the crowd, the police have planned to tie bands with details of parent's mobile numbers around children's arms."This will help in locating the parents immediately," he said.
While vehicles will be allowed along Kamarajar Salai, the police say that vehicle entry or parking will not be allowed along Marina's service road. "People may park their vehicles at Queen Mary's College, Lady Willingdon College or in Loop Road."
The crowd is expected to get bigger post noon. Hence traffic snarls may occur along Loop Road and Kamarajar Salai.