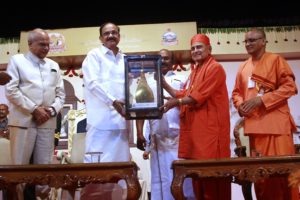 On Jan. 12, the vice president of India, M. Venkaiah Naidu inaugurated the year-long centenary celebrations of Sri Ramakrishna Math's Thamizh magazine called 'Sri Ramakrishna Vijayam'.
The event was held at Narada Gana Sabha, at T.T.K Road, Alwarpet.
Governor of Tamil Nadu, Banwarilal Purohit and C. Vijaya Bhaskar, state minister for health and family welfare, were the guests of honor at the. The benediction was given by swami Gautamanandaji, vice president, Ramakrishna Math, and Ramakrishna Mission, Belur, Kolkata.
To mark this occasion, the Math also launched a facility to subscribe to this magazine on its online App – 'RKM iStore'. The subscription fee is Rs.399. The App can be downloaded at Play store or App store. The team from Math also presented nel kathir (bunch of paddy) as a symbolic memento to vice president Venkaiah Naidu.
The celebrations will continue through this year at various venues in the city. The venues include Sri Ramakrishna Math, Narada Gana Sabha and Bharatiya Vidya Bhavan.
Started in January 1921, the monthly Thamizh magazine has been devoted to propagating the thoughts and messages of Sri Ramakrishna, Sri Sarada Devi and Swami Vivekananda and about Vedanta.
The magazine's team says the uniqueness of the magazine lies in its presentation – its contents on themes like the Indian epics and the Puranas are explained in a simple language and are supplemented with stories and visuals.
The magazine currently has a circulation of over 1,75,000.
Photo courtesy Sri Ramakrishna Math, Mylapore