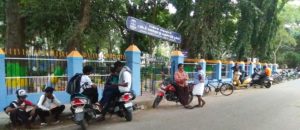 Chennai Corporation is renovating the public park at Demonte Colony in Alwarpet. The compound walls have got a fresh coat of paint and few recharge wells are under construction here.
While the residents of the area welcome the development, they are suggesting a few improvements to be made at this park.
Says S.V.S Raghavan, a resident, "It will be good if the Corporation builds a badminton court or sets up some exercise equipment and fixes the broken tiles along the walking path."
Women walkers at the park say that safety is a concern at the park. Said a woman, who wanted to be anonymous, "Since a few tea shops exist outside the park, men hang around here. So we don't feel safe to enter the park when there are very few people inside."
Another resident Usha Sridharan says, "The lighting must be good and a full-time security personnel has to be appointed." Residents say that the current security personnel is not regular at his job. They say that he often drinks and shouts.
Prabakaran, another resident says that people sit and consume liquor after 7 p.m."This place is an open-air bar at night since there is no guard to secure the place."