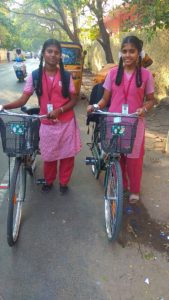 Receiving brand-new bicycles made Jayabharati and Shobana happy this past week.
The class 11 students of St. Raphael's school on Kutchery Road, Mylapore received free bicycles from their school as part of welfare schemes provided by Tamil Nadu government.
The young girls said they were looking forward to getting them from the time they passed out of class 9.
On the same day, class 11 students from other local schools in the neighbourhood too received free bicycles.