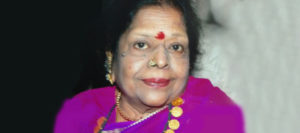 Chennai-based Sarasalaya presents SARASA NATYA MALA, the 8th annual dance festival in memory of Bharatanatyam guru K. J. Sarasa ( seen in the photo) in the presence of well-known gurus Chitra Visweswaran and Ramli Ibrahim.
Sarasa ran her dance institution in the Mylapore neighbourhood.
There are recitals on Feb 15, 16 and 17, 5 pm onwards at Bharatiya Vidya Bhavan, Mylapore.
Here is the schedule
Feb 15, 2020
5.00 pm – Shalini Lakshman/ concert
6.00 pm – Award function. Awardees : V. V. Ramani, Radhika Shurajit, M. S. Kannan, Dhakshayani Ramachandran, Aniruddha Knight, Sukanya Ravindhar, Sudharma Vaithiyanathan
6.45 pm – Shanmuga Sundaram /concert
7.30 pm – V. Balagurunathan, Mayura & Hamsa /concert
Feb 16, 2020
5.00 pm – Kavya Muralidharan / concert
6.15 pm – Apoorva Jayaraman / concert
7.30 pm – Guest performances by Aniel Algoe, Swarnamalya, Ramli Ibrahim, Radhika Shurajit troupe, L. Narendra Kumar
Feb 17, 2020
5.00 pm – Seshadri Iyengar/ concert
6.15 pm – Roja Kannan / concert
7.30 pm – Madhuvanthi M presents 'Thamizh': A mixed media theatre presentation
Artistic director of this festival is dancer and teacher, Shanmuga Sundaram