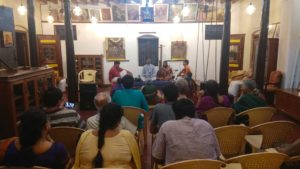 This was more of a chamber music concert and rasikas who attended the series which were held on the occasion of Sivarathri (Feb 21) at a vintage bungalow in Pelathope soaked in a unique experience.
The Ramkumars who take care of this place which others refer to as Subbaraya Iyer's bungalow had organised a series of classical music concerts that started from 6 p.m. and went on till midnight.
The bungalow is located at the Pelathope lane located off R.K.Mutt Road and opposite Thirumayilai MRTS station's main gate. Four young artistes performed that evening starting with vocalist Karaikal Jaishankar. Other young artistes accompanied the vocalists – on the mridangam, flute and violin.
The performances were themed on lord Shiva.
Built in 1919 by Sir Subbaraya Iyer, an illustrious lawyer in what was well-known as the hub of Mylapore's famed lawyers, the bungalow has been gently restored over many months and now, the Ramkumars have begun to host concerts and talks. In January, it was the venue for three events of the annual Mylapore Festival.
Said Ramkumar, advocate, "To preserve this heritage house, we believe it is necessary to use it regularly. Hence, we restored it and have started using it for small cultural events and personal and social functions."