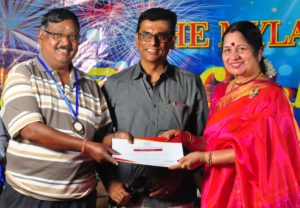 54-year-old S. Sankar won the cookery contest for men held recently at the Mylapore Club as part of the Club Day celebrations. And he had stiff compeition.
While other contestants made traditional South Indian dishes like Kumbakonam Kadappa, Elaneer Payasam and Vatha Kuzhambu, Sankar surprised the women judges by making the North Indian dish of vegetable pulav and kadai paneer.
Mylapore Club's members are used to some good traditional South Indian food served in the canteen but Sankar provided the surprise element at the contest with his North Indian dish that he made in 40 minutes.
Sankar says he has been trying out various South Indian dishes at home. Now that he has won a contest, many of his friends are now coaxing him to make his favourite dishes for them.
Mylapore Club presented Sankar with a gift voucher, a cup and a certificate for his winning effort.
In this photo, S. Sankar is receiving the prize from the chief guest, Rangam Balaji. Suresh Sampath, Secy, Mylapore Club is with them.