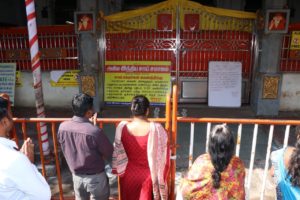 Several temples in the neighbourhood are doing their best to prevent the community spread of coronavirus.
At Sri Adi Kesava Perumal Temple, the chairman of the temple trust, N. C. Sridhar says, "We have been asking the devotees to wash their legs and hands before entering the temple. We have also made sure that soaps and other cleaning materials are accessible to the devotees at all times."
He continues, "We have also been giving announcements about this at the temple premises periodically".
Meanwhile, the hugely busy Sai Baba Temple has been closed to people. A large notice says so on its gate. On Thursday, which draws a huge stream of devotees, people who came by in the morning returned after saying a prayer on the pavement. ( Photo featured here)
Roadside shops are open here.