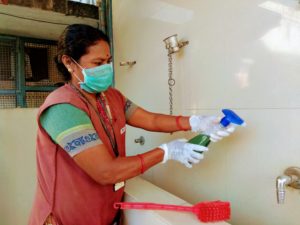 To prevent the spread of COVID-19, Chennai Corporation has started disinfecting public places in Mylapore.
On Sunday (March 15), workers from the Corporation's Health department disinfected some local temples, bus stops and ATM kiosks in the neighbourhood.
Says Dr Saraswati, Zonal Health Officer, Zone 9, Chennai Corporation, " Our team disinfected temples including Sri Kapaleeswarar temple, and Sri Saibaba Temple in Mylapore. They also cleaned bus stops and ATM kiosks at San Thome High Road. Lysol antibacterial disinfection was carried out at all places."
In addition, she says they also gave an Orientation to the staff at the temples. "We explained the preventive measures to be followed for protection from the virus. We advised handwashing and frequent disinfection of the temple premises. We also asked them to check devotees who may show flu-like symptoms and refer them to the nearest health facility."
Now, intensive cleaning has started at Sri Kapaleeswarar Temple in Mylapore. The workers say that the handrails, the drinking water area are disinfected at regular intervals.
Says D.Kaveri, executive officer of the temple, "Our workers are cleaning the entire temple thoroughly. We have provided gloves and masks to prevent them from getting infected. We are also planning to get thermal scanners shortly. After which, we plan to screen all devotees at the entrance. Then people who have high temperatures will be politely asked to refrain from entering the temple."
The picture shows a worker disinfecting the drinking water area at Sri Kapaleeswarar temple.