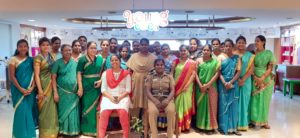 NAC Jewellers, a leading jewellery retailer headquartered in Mylapore celebrated Women's Day on March 7 and 8 at its premises on North Mada Street.
On March 7, NAC organised a self-defence workshop for its women employees – they were taught basic steps. On March 8, the store organised a women safety awareness programme in which Mylapore police station based sub-inspector Manikaselvi and head constable Sasi Rekha participated. They briefed the staff about safety
measures that are available for women in the Kavalan App.
All the 40 women employees downloaded the App during the event, to use it when required, says Praveen Kumar E., the HR executive of NAC.
This App alerts local police to dangers or attempts to commit a crime as soon as its user activates it.