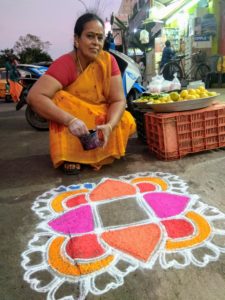 From colourful rangolis to those filled with flower petals, this hawker comes up with a unique kolam everyday.
Ammu says she draws them to attract customers. She draws the kolams thick so it stands out till late evening.
Ammu sells lemons, dosa batter, and kolam powder. She has her hawker stall off the Chitirai Chatiram on South Mada Street, Mylapore.
Says Ammu, "I have been drawing Kolams for many years now. Over time, I have become very interested in drawing them."
The resident of Mundagakanni Amman Kovil Street also ensures to keep the premises of her shop neat and clean as she believes " Cleanliness is next to Godliness."