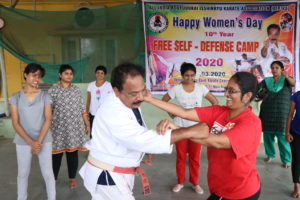 Two dozen women, some teens, some home makers and some professionals were at the Boufuuukai Isshinryu Karate School in Mandaveli this Saturday morning to master a few skills that may come in handy if they were teased on the road or attacked on a badly-lit street.
Skills of simple self-defence.
The lead masters here decided to hold a free self defence camp for women to mark Womens Day.
The participants spent about a hour learning the basics which will come in handy in a bad situation.
Regular karate classes for men and women are held at this place. The school is run by Shihan A. R. Sundar. At 226, R. K. Mutt Road, Mandaveli (above Canara Bank). Call 9840018628.