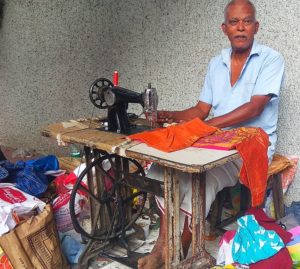 Despite lockdown, Ponnuswamy, the well-known tailor of C.I.T colony continues to provide tailoring services to the community here.
With no transportation facilities available, the 72-year-old now walks all the way from his house in Virugambakkam and comes to Mylapore for work.
In the evening too, he goes on foot to reach his house.
Ponnuswamy sits at the pavement opposite M.P. Aanandh School on C.I.T colony First Link Street and does stitching/ alteration of clothes on his sewing machine.
Says Ponnuswamy, "It takes nearly two hours to walk (one-way). I start from my house at 5 a.m. and reach CIT colony by 7 a.m."
Though his customers have dwindled after the lockdown, he still works to help people who might need his services. "Nowadays, I get only limited work. However, there are some people who need my services regularly. Hence, I continue to come to work. Also, I don't like sitting at home. "
He says, "I know its a risk. My wife also urges me not to go out due to Coronavirus scare. But we have to run the family, and hence I have to continue working."
Ponnuswamy has been providing stitching and altering services for the residents of this colony for some 30 years now. He is known for offering the best alteration work in this neighbourhood.
On a regular day, he starts his work at 9 a.m. and goes on well past 8 p.m.
He has a wife and three children. The senior tailor says he has settled all his children by doing this work. The family stays at Virugambakkam, Chennai.
However, Ponnuswamy has limited his working hours and works only on alternate days now. People who may need his services may call him at 9840034188.