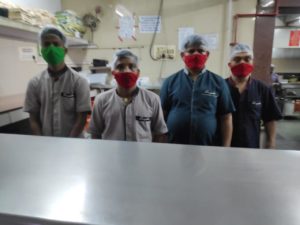 Are our takeaway counters at local restaurants strictly following the pandemic regulations.
One Mylaporean who was at Sangeetha's on South Mada Street, Mylapore says she is aghast at the situation there.
"The supervisor who gives us the food parcel was coughing and sneezing badly with mask in his hand and he did not bother to wash his hand also. When I questioned he was reluctant to answer too," said Jayalakshmi Mohan in a message to this newspaper.
She says the billing clerk also was not wearing a mask.
"They are not social distancing at all," she added.
Mylapore Times has not contacted Sangeetha yet for its reaction but will try to do so when it can connect.
But at 10.30 am, our regular correspondent S Prabhu who dropped by at Sangeetha says all staff and the guard are wearing masks.
Photo by S. Prabhu
(()) YOU TOO CAN REPORT extreme cases of people flouting rules and posing danger to the community.