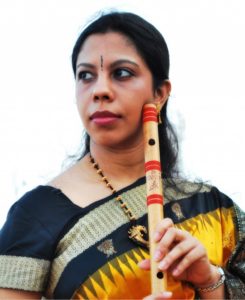 The Indian Classical Gems (ICG) ICG brings to you KalaKriya – an online Indian classical music platform to showcase the best young talents, irrespective of their location.
And this online series is being curated by Mylapore-based Shantala Subramanyam, a well-known flutist. Says the artiste, " I am keen that we maintain the quality of the music concerts that we present."
The main difference  between ICG and others is that ICG posts are curated and posted only by the Admin, whereas on the other pages allow the public to also post, thus making ICG very unique, says a note from Shantala.
She adds, "A key component to growing the connoisseur base in Carnatic music is also sharing tit bits about the concert, composers, raga etc.,  so it helps the audience understand and appreciate what they listen to."
There is short Q&A session at the end of each concert episode. 
Kalakriya brings it first episode on May 30, 2020 11am EST and 8.30pm IST.  In the future, Kalakriya hopes to widen the variety of their presentations  without compromising on the quality.
Ideas and feedback can be mailed to –