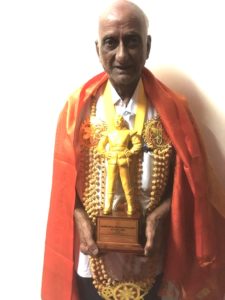 86 year old audio recordist 'AVM' K. Sampath passed away on Friday on May 1 following health related ailments.
He had been hospitalised in Apollo Teynampet for almost 15days, in a room a floor below where the COVID patients were being treated. He had been in coma for three days before passing away last evening.
"He was closely associated with CASSI (a Union for film workers) and hence May Day was always his favourite day of the year. He had already gone into coma on the day he completed his 86th birthday on April 29 but he would be happy within himself that he passed away on May Day for he was always for the workers of the film industry. He considered May 1 as his most special day of the year even more than his birthday, such was his close relationship with the workers of the industry", says Srikanth Srinivasan, his son in law, who is the COO of Assurant India
Recalling the final fortnight of Sampath's life, Srikanth who was seated by Sampath's bedside at the hospital, says that the filmworld veteran recollected the 'musical' days at AVM from the 1970s "Often, in the last 15 days, he would ask me to switch on the plug as if he was a recording at the studio. The memories of his legendary audio recordings stayed with him till the time he went into a coma, such was his passionate connect with the work he rendered for over 50 years."
Engineer K Balasundar (Raja to those in the film industry) who worked with Sampath for several decades and is considered his prime disciple told the Mylapore Times, "We have only heard of the name and work of Mahatma Gandhi. In my lifetime at AVM, I saw Gandhiji in Sampath. He stood for the right and fought for the truth. Not once did he waver from the Dharmic path. He told everyone about his way of life and work. Only if they accepted his honest path, did he agree to work in that film. A dishonest or untruthful person could not come near him all his life. Almost as his son, I served him till the very end of his life."
Sampath was associated with the AVM Studio for over five decades without a break and hence he came to known as 'AVM' Sampath. He recorded over 6000 songs. It was from AV Meiyappan Chettiar that he learnt the basics of life in terms of punctuality and discipline at the work place. Thrice he won State awards. For his work in a Malayalam movie, he won the National award.
Kamal Hassan in his Twitter message said 'Salute a true technician Sampath Sir of AVM whom I have seen updating himself from my childhood. We spoke about improving industry skills till a few years back. These men don't pass away. They pass on, wisdom.'
After the celebration of his 80th birthday, Sampath along with his wife spent the last years of his life in Bheema Sena Garden Street, Mylapore with his daughter, son in law and grand children.
Sampath's daughter can be reached on 98409 99140.