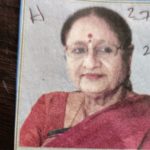 Carnatic music artiste and guru Jaya Krishnan, a resident of St Marys Road for over four decades passed away on May 26.
The end came at the Karpagam Gardens home of her son, Bharath Kumar, former Tamil Nadu Ranji trophy cricketer and daughter-in-law, Srekala Bharath, dancer and guru.
Bharath says his mother was an accomplished Carnatic musician and guru who was very tech-savvy too and used online facilities to teach Carnatic music to NRIs.
Jaya's family was based in Calcutta and she came down to Madras to study Carnatic music at Kalakshetra ( under Rukmini Devi) where she also had her general education while staying in the hostel here. Later, she got married in Madras and settled down here.
Said Bharath, "She was an all rounder in every sense. She was a very competent tennis player who used to play in the Mandavelipakkan Tennis Club, an accomplished cook and a doting mother, mother in law and grandmother."
She is survived by her sons, Bharath Kumar and Arun Kumar, daughters in law Srekala Bharath and Shanti Arun Kumar, grand-chlidren and great grandson.
Contacts – 91761 35100 / kbk2456@gmail.com