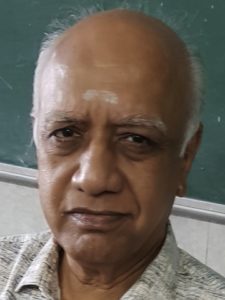 R. Badrinarayanan (73), a former senior officer of Bank of India , passed away May 17 , due to a massive heart attack. He had been a resident of Subramaniam Street, Abiramapuram for the past 40 odd years.
Badrinarayanan was an alumnus of P. S. High School's 1962 batch and later did his degree at Vivekananda College.
His friends said he had great reverence to his Alma Mater, and had coordinated nearly 98 school alumni get togethers. He took part in the 1962 batch golden jubilee celebrations in 2012.
Friends remember him for his suave attitude and helpful nature. He was also a Lion's Club member and an ex employee of Madras Forensic Laboratory.
He is survived by his wife, son and their families.
His family can be reached out at old no. 45, new no. 41, Subramanian Street. Ahiramapuram – 600018. Phone: 044-24995509 /9840265158.