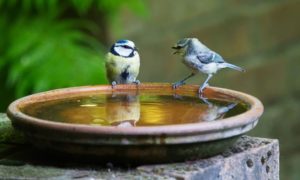 On June 5, personnel at the Mylapore Fire station held a snappy event to mark World Environment Day.
C. Sylendra Babu, director, Tamil Nadu Fire and Rescue Services (TNFRS) visited this Fire Station, off Dr Radhakrishnan Salai and initiated a tree-planting campaign.
Says Ramdoss, Inspector, Mylapore Fire Station, "As part of the campaign, we along with our director Sylendra Babu planted saplings around the station campus."
Also, to help dozens of street dogs and birds outside the station, the Inspector says they plan to keep water bowls. "Since lockdown, we have been keeping food and water for dogs off and on. But now we will be keeping water bowls every day," he says.
Picture used for representation; courtesy: www.birdbarn.co.uk