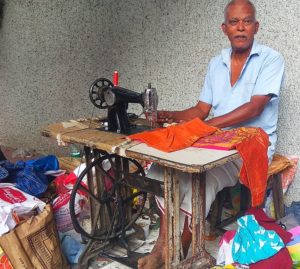 Following the passing of C. I. T colony's popular tailor Ponnuswamy, Mylaporeans, who took his services are wanting to reach out to his family and offer them condolences.
But they are unable to do so as the tailor's phone number is not reachable.
The 72-year-old tailor had toiled continuously for over 30 years in this neighbourhood, helping people with their stitching needs. He also walked around 12 km from his Virugambakkam home to Mylapore to continue his services during the lockdown.
Says Prema of TTK Road, Alwarpet in an email to Mylapore Times,  "We have known the tailor for many years. He was very dedicated to his work. It is very difficult to find a person like him these days. So we want to help his family by donating some amount. But there is no response from his mobile number."
Mylapore Times also tried to reach his family at the tailor's number. But the phone remains switched off.