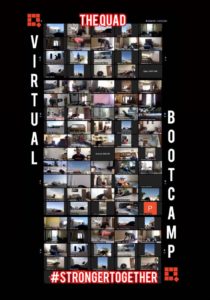 The Quad, a city-based fitness company with a centre at R.A.Puram is doing all it can to help people stay fit during the lockdown period.
Since its inception in 2011, the company has been training over 5000 people between the ages of 12 and 70 from across the world.
And post lockdown, though Quad had to close its physical locations, they have continued to support their clients through virtual classes.
Says Ranjani Shanker, Head of Business and Development, The Quad, "We have a huge responsibility to support our clients with their fitness. Hence, within two weeks of lockdown, our team transitioned the classes to an online format."
Three months on, now their virtual classes seem to have benefitted many.
Says Karthik TMK, a Mylaporean who uses their services, "The Quad has been conducting one of the best virtual classes in the past three months."

A number of our clients who had moved out of Chennai could also benefit after we went online, Ranjani says.
While strength training is the focus of their virtual classes, the team also trains people on improving mobility and flexibility. "And as access to kettlebells (external weights) is not possible now, we make people use their bodyweight to build muscle and core strength."
Also, to ensure individual attention is provided to each trainee, Quad takes only limited participants for an online session. "Multiple coaches will also be available to guide people through the session."
Quad also takes customised one-on-one sessions for people with specific goals or underlying health conditions like diabetes or PCOS (polycystic ovary syndrome). They also suggest tips on nutrition and lifestyle changes.
People who may want to join their online classes may visit www.quadvirtual.in or call: 9566208724
Here are a few tips that Team Quad provides for people to stay fit now.
1. Make sure moving around is made a priority. Set an alarm for every 30 minutes, and every time it beeps, get up and move around a bit before you settle back to your chair. During this time, you could also get yourself some water as it is equally important to keep yourself hydrated.
2. If you have access to a staircase, then you can walk up and down a few times.
3. One could also follow basic bodyweight movements like the squat, plank and core activation exercise
4. Make fitness a priority and follow a suitable routine and be consistent at it.
5. Do not fall for random recipes of immunity-boosting drinks and medicines, just eat hygienic and healthy at this time.
For more tips visit Quad's Instagram page – 'Thequad.in'
Visual used here is of an online boot camp photo