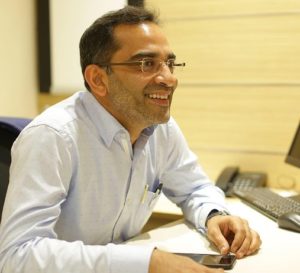 Deepak Subramanian (seen in the picture) is a laparoscopic surgeon and a resident of Abhiramapuram.
He says, "During the first week of April, we had a patient come into the emergency at a hospital in the city with several abdominal pain. He had intestinal perforation and was self medicating himself for two days before he decided to come in. At the hospital, we have a protocol in place. Any patient coming in for an emergency surgery would be immediately taken care of and we would not wait for the coronavirus results to come in. And we also decided that we would take the same precautions that we would take if the patient had a positive result".
Deepak and his staff of ten doctors, assistants and nurses sanitized well and adorned PPE suits and masks and completed the surgery. When the patient's test result came positive, Deepak says he was surprised. "When the patient came into the hospital he did not show any symptoms of coronavirus like fever, cough or breathing difficulty. He only had severe abdominal pain. We did not expect the test results to be positive".
Deepak says the PPE suits don't allow air flow and are not very comfortable. He says, "The surgery took about three hours and I had to wear a visor, N95 mask, double gloves, a shoe cover and the surgical gown that we usually wear.  Breathing becomes difficult sometimes and the visors get fogged thereby obstructing our vision. An assistant would wipe it frequently during surgery. The anesthesiologist had to wear a full coverall suit and that is even more uncomfortable than what I wore".
The patient he says was later shifted into an isolation ward. The patient also went into a 14 day quarantine after he was discharged. None of the other staff tested positive for the virus, says Deepak.