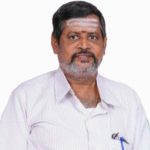 N. Ramachandran, retired head draughting officer, Highways department based in Chennai and a long time resident of Nadu Street, Mylapore passed away in a city hospital on May 30.
He had contracted the corona virus, said his family in an e-mail.
He hailed from Mayiladuthurai, Tamil Nadu. He retired in 2015 after 39 years of service in government service.
Besides his wife, he is survived by his son and daughter. 
The family's address – 2, Nadu Street, Mylapore.