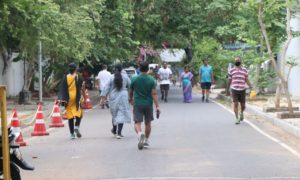 The regular walkers in the Boat Club zone were at their posts this morning. Walking.
Men, women and seniors from the local area walked up and down and there was nobody to question them.
A few days ago, the residents here, mostly bigwigs had written to the Police Commissioner asking for a drop gate to be created blocking people from outside this area from walking and jogging here, saying they feared the virus could be spread here.
The police seem to have politely negated the idea and the Chennai Corporation said it had no rights to barricade colonies on people's request.
The issue kicked up a controversy, with many people critical of the attitude of the Boat Club area