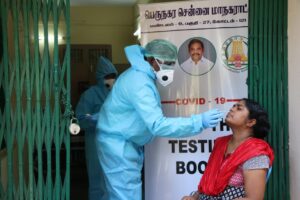 To provide faster access to virus testing, Chennai Corporation has set up a sample collection centre at its AIDS prevention and control society near Thiruvalluvar statue off R.H. Road in Mylapore.
The centre started functioning here from today (July 8) morning.
Says the sanitary inspector, who is in charge of the sample collection centre, "Contacts of virus-positive persons, symptomatic and asymptomatic persons identified from fever camps will now be mobilised to this centre for sample collection."
Earlier, people from Mylapore had to go to the Corporation's kiosks at Nungambakkam or Triplicane for sample collection. "It took a long time to mobilise people there. Hence, to reduce travel time we have opened one here."
Chennai Corporation's technicians, wearing PPE kits will facilitate sample (throat swab or nasal swab) collection.
Collected samples will be sent to government hospitals for testing. The results will be provided within two to three days, we are told.
People having virus symptoms (cough, fever, breathlessness) may also visit the centre independently to get themselves tested. Open from 10 am to 4 pm on all days.