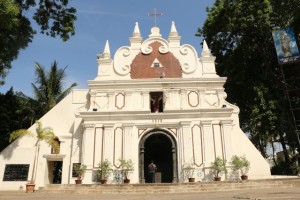 The parish priest of Our Lady of Light Church in Luz has launched its annual campaign to raise funds to support economically poor school children of this parish.
Said Fr Peter Thumma, rector and parish priest, "Our parish has, for the past 25 years supported the educational needs of the children of the parish from LKG to graduation, either partly or wholly. These efforts have been successful only because of the generosity of our parishioners and visitors to our Church."
Last year, the church disbursed Rs 1,78,300 to 88 students.
The priest says, "All of us are going through a difficult time during this pandemic. Many have had salary cuts and even lost jobs. Most parents are struggling to pay the fees for their wards. We expect a bigger number, more than last year, of students who would require help during this time."
People who wish to make a contribution can do so online. The details of church bank account is -.
Bank : Indian Bank
Branch : E Abiramapuram
SB A/C no : 742909067
A/C name : Parish Priest, Church of Our Lady of Light
IFSC code : IDIB000E013
The priest requests donors to WhatsApp +91 9840426577 when you have transferred money, so that this can be accounted for .