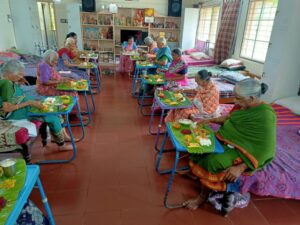 Despite dwindling donations, Akshaya Trust, an NGO based in Mylapore continues to support over 100 senior citizens at its old age homes.
Since the past 20 years, the NGO known for setting up a community fridge near Mundagakanni Amman Koil MRTS station has been providing food, shelter and medical care to these seniors at free of cost.
However, post lockdown founder Gopalan says they have been facing some challenges to continue their services.
Says G.Gopalan, founder of Akshaya Trust, "Although the community fridge facility had to be temporarily stopped due to lockdown, we continue to support seniors at our old age homes in Valasaravakkam, Mudichur and Pallikaranai."
"However, after lockdown, the donations have reduced. Also, to prevent the virus spread, we have stopped visitors from dropping in. And that has further dwindled donations. With the help of our cash reserves and some well-wishers, we managed to provide them food and other essentials so far. But now, we are finding it difficult to support them."
"It will be good if people could donate to help the seniors at our homes."
People who wish to donate may do so by providing dry rations (rice, dal, oil) or transfer money via online bank transfer or G Pay.
For details contact Gopalan at 9841013690.
The trust is located at 99, Royapettah High Road, Mylapore.
Picture Courtesy: Akshaya Trust