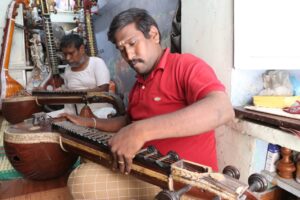 S. Balaji, a fifth-generation veena repair craftsman based in Mylapore has tapped into technology to help his customers during the lockdown.
Balaji along with his father Shankar has been managing the well known 'Shankar Musicals' veena repair shop at Mundagakanni Amman Koil Street for several decades now.
These craftspeople are carrying on a tradition they say spans five generations.
And since March lockdown, he has helped dozens of people in carrying out minor repairs of their musical instruments through WhatsApp chat/ video calls.
Says Balaji, "Following lockdown, as customers could not venture out they kept seeking tips to repair their musical instruments. However, neither they nor we could step out."
That is when Balaji came up with the idea of using WhatsApp. He soon started asking his customers to send pictures of their defective musical instruments via the App. "I would see the picture. If it's a minor repair, I would guide them to fix some strings and the repair would be done in seconds."
"Till now, I have helped dozens of music college students and young instrument learners with minor repairs," he says.
But if the issue is a major one, Balaji says he asks his customers to wait for a suitable time to get across to the shop. "Customers were excited that they could repair their instruments on their own. And I too was happy that I could be of some help to them during lockdown."
Their shop has recently re-opened and begun undertaking manufacture and repair of veena. Besides, they also repair other musical instruments like guitar, violin and tambura.
Balaji says repairs will be done at the shop following all precautions to prevent the virus spread. For minor repair works, people may call/ WhatsApp Balaji at 9677070086.
At 7/2, Mundagakanni Amman Koil Street, Mylapore. Open from 10 am to 6 pm on all days. Ph: 24985383.