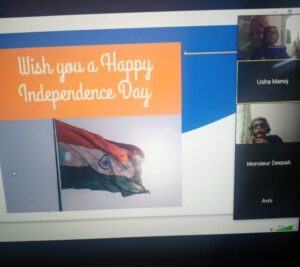 The lockdown restrictions did not deter the community at Aashiana Apartments at Venus Colony, Alwarpet from holding a grand Independence Day celebrations, this year.
Though the residents could not physically gather, they marked the occasion with a number of 'online' cultural programmes over Zoom.
Every year, Independence Day (I-Day) is one of the events where all 176 odd families of this Apartment get together for a community celebration.
Says Vidya, a resident here, "This year, when we realised a get together was not possible, Usha Manoj, the Entertainment coordinator of our complex, came up with the idea of holding virtual celebration. Immediately, all of us got excited and chalked out programmes for the event."
The preparations for I-Day started here a fortnight before August 15. Vidya says patriotic song performances, speeches and skits were all part of the itinerary.
She says that two resident music teachers – Vijayalakshmi Sridharan and Sridhar Natarajan, trained different group of kids in patriotic songs."Even the song practice took place over zoom," she exclaims.
The community also involved its senior residents in the celebrations. Each senior was asked to share a short video message for the residents.
Venkateshwari Saravanan, a resident also curated a unique skit called 'Covid Galatta'. Performed by an all-women group, Vidya says it was a comical account of how women of this complex were dealing with virus situation, lockdown and the new normal.
"The women shot snappy videos of their act from their own houses. The videos were later edited and put together as a skit on Youtube by Venkateshwari. Its link was then shared with residents," she says and instantly adds, "It has now garnered 1000 views."
The other programmes were pre-recorded and then beamed online over Zoom on I- Day. Two teens Maanasa and Aarush handled the technology aspect of putting together the entire event. And youngsters helped seniors in getting connected to the online platform, she says.
The residents also hosted a 'live' flag hoisting ceremony, Aug. 15 morning.
90-year-old Dr Sreenivasan, one of the oldest residents of the complex unfurled the tricolor inside the Apartment campus. And arrangement was made to host the event live to all residents. Following this, pre-recorded cultural programmes were put out one after other on Zoom. And the entire community joined virtually.
"All residents, especially seniors were extremely happy to take part in the online celebration, as they could see everyone and interact with them after a long time."
Here is the link of 'Covid Galatta' skit created by the women residents of this complex – https://www.youtube.com/watch?v=_l-C0EjkjbI&t=4s