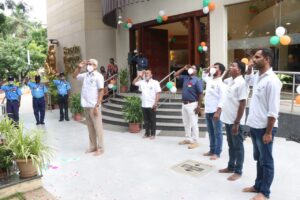 Bharatiya Vidya Bhavan hosted a simple but symbolic Independence Day event this August 15 morning. The national flag was hoisted inside the campus and 'Jana gana mana,,,,' was sung.
This was followed by the singing of a patriotic song, sung by four women in choral form and they were directed by Dr Sudha Raja.
Nearby, the team that manages Rasika Ranjani Sabha ( R R Sabha) on Sundareswarar Street hoisted the national flag and saluted it. With them were a small group of guards who provide security here. ( Photo used here is of this event.)
The senior members of Kalyan Nagar Association in Mandavelipakkam got together this morning and hoisted the national flag. The event was kept simple and snappy on this campus.
A small group of staff from Mylapore Head Post Office held a simple flag hoisting ceremony at its campus on Kutchery Road.
Similarly, teachers and staff at Sivaswami Kalalaya Hr. Secondary School got together to attend the flag hoisting ceremony this morning. This was also a snappy event.
Members of Mandaveli's Raja Street Resident's Welfare Association (RWA) too celebrated the Independence Day with a snappy flag hoisting event. A total of 7 members attended the ceremony which included 2 children. President of the Association, N. Kanti, hoisted the tricolour flag.
Says Ganga Sridhar, a resident here, "Other residents of the street too joined the ceremony from their windows and balconies. They saluted the national flag and sang the national anthem."
At Ragamalika Apartment at Mandaveli, some 25 residents, a few children and the security guards of the complex, took part in the flag-hoisting event in the morning.
At Lady Sivaswami Ayyar Girls Hr Sec School, Mylapore the simple and formal flag hoisting event was followed by an event for these times – a group of workers who are involved in addressing the virus situation in the area were honoured for their services. School staff, some students and guests were present, all following safety regulations.
Pandemic time regulations suggested that large events to mark Independence Day be avoided by communities. So save for some events held inside campuses, nothing took place in the public spaces like parks, halls and playgrounds.