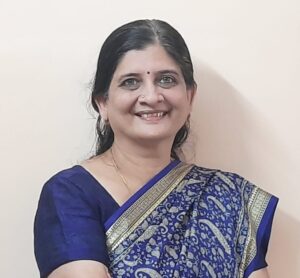 Shoba Raman, the principal of Vidya Mandir school, Mylapore, has been chosen for the CBSE's annual best teacher award given nationally. She is one among the three teachers from Tamil Nadu chosen for the award.
And this recognition for Shoba must be a time for celebration  for a person who has traversed a long road.
The journey from teacher to principal has not been easy for Shoba. Her first stint at teaching was at M. Ct. M School, Alwarpet. She joined as a part-time arts and crafts assistant. She worked at this school for five years and in that time, she earned a masters degree in chemistry from Annamalai University and then, a bachelors and masters degree in education.
She says she realised that chemistry was her passion and so, chose to take a break for three years after that to do her M. Phil study in chemistry at Madras University.
Says Shoba, "When I did my M.Phil, my son was a toddler and he was at home. Madras University had a campus at Anna University at Guindy then and I would attend college there everyday. I was probably the only student here who had two children. My classmates were much younger than me!"
With many a qualification to her credit, Shoba then joined Vidya Mandir as a post graduate chemistry teacher in 1996.
In 2004, she was in the spotlight. As she explains in a phone interview, "At that time, Rustom Irani, a Bombay- based firm that also managed a school had organised a pan India competition for teachers to celebrate Teachers Day. The principal of Vidya Mandir at that time, Ms. Bhavani asked me to take part in the competition. I went onto the national finals and won the silver medal there. That is when I realised that there was so much more I could do".
The next year, she was awarded the Fulbright scholarship by USA and she flew off to Vermont to conduct classes for the students of Brattle-Boro Union High School there for six months.
A huge transformation was taking place for this teacher. She changed from being a strict, quiet teacher into a more fun-loving, interactive and outgoing person. She says, "To survive there, I had to meet up with parents, converse with them and learn all the time. Those six months completely changed the way I looked at teaching. The more I interacted with our students, the more I learnt what teaching was all about."
A year after her return to Chennai, in 2007, she became the science co-ordinator for middle and high school students at Vidya Mandir. In 2009, she was made vice-principal. In 2014, she took over as the principal of Vidya Mandir.
As a principal she says the challenges have been many. "Before I took over as principal, Ms. Bhavani had been the principal for 17 years. It was very difficult to fill her shoes but the sole reason I could manage is because all the people around me were very supportive. Everybody, including the PTA (parent teacher association), alumni, teachers, students, parents and the management really helped me blend into this role. And they still continue to do so".
The pandemic has thrown up new challenges this year and Shoba says she has taken all these in her stride. Obviously, past experience is standing her in good stead.