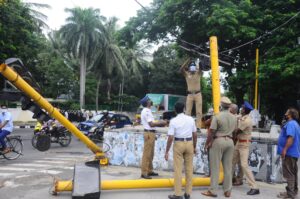 A five year old was killed in a traffic accident that took place this Friday morning (Sept.11) at the traffic signals junction of Foreshore Estate, where one road from San Thome High Road turns left towards the seaside.
Pattinapakkam police said that a drinking water transport lorry, headed from the San Thome side towards the Metrowater filling station next to the Quibble Island cemetery brushed against a few vehicles at the junction, knocked down the traffic signal lights and knocked down the scooter driven by the dead boy's grandfather. The rider's wife was on pillion, with the boy.
The lorry was detained.
The accident is said to have taken place around 8 a.m.when traffic is rather thin in these times on this busy road.
Police suspect the lorry driver may have found the brakes did  not function even as he tried to drive quickly to the water filling station.
Policemen were seen removing the traffic signal posts scattered on the road to allow for free flow of vehicles.