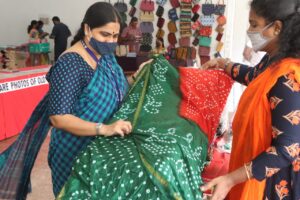 A small group of home-based women entrepreneurs are taking part in a sale that opened this Friday morning at the C. P.Art Centre hall, on Eldams Road, Alwarpet.
These women who have been without much business the past five months have got the opportunity, courtesy the C. P. R. Foundation to set up stalls and sell their stuff here over three days; the sale is on till Sept.20. 10 am to 6pm.
Foodstuff, clothes, saris, pickles and podis, home accessories, sanitisers and home necessities are on sale here.
C. P. Art Centre halls are a beehive of sales and exhibition activity all through the year but had to be shut down due to the pandemic. This small sale seems to be a small restart too.